Two huge losses for Lin Gaoyuang what will this mean?
The World Table Tennis Cup is currently being played and Lin Gaoyuang, has suffered his second loss from a winning position!
Lin, played in both the World Championship and World Cup this year and on both occasion's he was leading vs Xu Xin and Timo Boll; 10-5 and 10-4 in the last but managed to lose.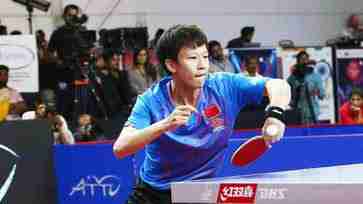 So, what does this mean?
In every nation but China, this kind of loss would be dealt with a pat on the back and some critic as to what happened, followed by words of encouragement.
In China, it's a different ball game!
This is seen as a huge problem and one of which has been dealt with severely in the past. Such as; (funnily enough – both left-handed, like Lin).
Chen Qi – was a remarkable player capable of beating anyone on his day but often failed under huge pressure and thus was never a first-team player, for China.
Hao Shuai- another phenomenal talent that crumbled against Michael Maze having many match points and leading 3-0. His future was never the same after that event!
Today Lin, crumbled on two big occasions, he can be forgiven against Xu Xin but I believe his first-team position has ended as of today! Losing to Timo Boll from 10-4 in the last will be the nail in his coffin. He will be in the national squad for sure but likely will never be in the first team.
Harsh Truth
This may seem harsh and many will feel it's wrong, sideling a player after two poor performances especially as they have sacrificed their lives for the sport. But China has a strict regime that takes no prisoners and unfortunately, due to their TT dominance, they will not allow a weak leak in their set up.
Both I and David Diniz (professional coach in Portugal with his own TT academy www.ttpor.pt), spoke about this matter today and felt it's a huge subject.
What's your opinion on this? and do you think Lin Gaoyuang, will be given another chance to redeem himself in the future?
To view Timo Boll's Come back against Lin Gaoyuang click here
Written by Eli Baraty
eBaTT (Eli Baraty Academy of Table Tennis)
Coach Me Table Tennis 
Instagram: _elibaraty
Twitter: @elibaraty
FB: Eli Baraty
W:  www.coachmetabletennis.com
E:   elibaraty@hotmail.com
M:  07900401144