I want to make it clear that my views and opinions are based on what I know see and hear. I am not against anyone that includes TTE. All I wish to see is our sport flourish both domestically and internationally. Unfortunately, I believe table tennis in England is at a very fragile state currently!
TTE, have made many changes over the past few years. Noticeable changes include: 
change of name and branding
– A new table tennis England school (Ackworth)
– New, high profile positions: national coaches, performance team and CEO
– New policies: EYS, Rankings, application for international representation, National Cup, and 9-13
– A New National Championships format
– Newley introduced National Cup format
The list goes on…
What does this mean? 
On a positive note, it means we are willing to change. Without change we are staying still and in today's world staying still is effectively going backwards.
On the flip side, too much change in a short space of time may cause instability which can disengage clubs, players and coaches causing deficiencies in the system.
I would like to touch on recent events,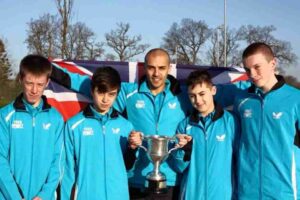 EYC selection 
I wrote a blog about this and made my feelings clear as to how important investing in our youth is.
I attended a TTE performance team roadshow, on the 24th of June in Darlington. EYC was brought up as a notable subject and unfortunately, the new performance team member said, "we stand by our decision and don't feel we did anything wrong" (Taking one junior instead of a full squad).
TTE saying that they don't feel they did anything wrong is a defensive position and unfortunately, all players and team performance was below expectations, (coming from TTE's performance requirements, they stated players and teams should aim to reach last 16 stage.  It may be worth asking is there anything TTE believe can be done to improve things?
It's a shame for TTE  not maximise exposure and experience for juniors. Surely the more exposure you give players, can only help in the future, TTE currently seems to have taken a very limited view on this.
Investment:
For me, having investments is a good thing (Performance Team) and also important that the clubs and TTE have a blended and shared approach to performance. The different systems should be supportive and complementary…..and not fighting each other.
System:
The performance representative said, no system produces world champions. And most world champions are made despite the system.
This is disappointingly negative from TTE. England has a pretty big population and with the right focus and support, we are able to produce some exceptional talent. However… a structured system must be implemented one produced by England's leading coaches alongside external consultation from the worlds leading table tennis nations.
Private Meeting with the Performance team
I was contacted a month back, requesting to meet me in person and discuss current TTE's vision. After a two hour meeting, it was clear that the focus was not on domestic table tennis. I wrote a heartfelt email to express my love for the sport and how I wish to grow and develop table tennis in England. Unfortunately, the reply I received seemed to ignore most of my outcry which was on behalf of all Table Tennis community and I naturally I felt disappointed.
"I will be inside the sport to the day I die" Something I expressed in my email and with respect to TTE I wish to see our sport flourish in the production of future World and Olympic Champions. I would also like to see our table tennis as a mainstream sport respected and appreciated. But I do feel to reach great heights a strong foundation must be built.
The list of issues is an endless blog and I don't wish to dwell deeply into the negative side of things but I do wish to find solutions.
I am willing to work with TTE or anyone willing to find ways of making our sport successful. We need to help each other grow and find solutions with a willingness to listen and oblige, across the board
Clubs
Table tennis clubs are the key to our sports success. Communicate with the leading clubs, or up and coming clubs. Find out what they are doing how can you help and collaborate.
Coaches
We have some amazing coaches in England and I've worked with many of them. Each has a unique set of skills, again communicate and find ways of developing a healthy partnership. Why bring foreign coaches when you have leading coaches on your doorstep? Embrace our own and results will surely come the way you wish for them to be achieved.
Players
TTE must appreciate that not all players have the finance or ability to attend EYS on top of all other domestic TT not to mention camps, group and personal coaching, tournaments, and international camps and events. Find schemes of aiding young potential players and help parents support their child's potential, don't make TT an elitist sport.
National Coaches
NC should attend more tournaments regardless of how important or not they feel these events are. By watching the players in action, a clearer picture can be made and it would encourage players, coaches and parents, make everyone feel special and worthy. Find out who is developing and why? Provide a clear pathway or an alternative pathway…
Elitist sport
TT should never need to be an elitist sport. No player should ever be excluded from progression or development because of funding. In the grand scheme of things, providing support to those in need would be peanuts compared to the overall budget. TTE can priorities if need to be to help those in need. Ultimately we must find ways to provide for our youth regardless of financial backgrounds.
Tournaments
The whole national circuit needs reviewing and restructuring in many respects. The list is too long for me to go into but in simple terms numbers are dwindling across the board. That's a clear sign that something is not right.
Finding a positive notion 
Communication: 
Credit to TTE for putting on a roadshow meeting but come on guys 1 hour does not allow for real communication to be expressed or covered.
We must focus on providing a more bespoke set of communication pathways.
Funding raising/sponsorship/aid schemes:
Have a designated person in this area as a fundraiser for development and opportunities.
Listen and do your best to implement:
TTE make it clear they are listening but they also make it seem as if they are uninterested and unwilling to budge from their chosen criteria's. A willingness to listen and actually try to make amends would be greatly appreciated, by everyone.
Provide opportunities for knowledgeable and passionate people.
Do your best to hire passionate and knowledgeable people who are able and capable of implementing new policies which are forward thinking for; clubs, players and coaches.
I want to make one thing clear, I have a genuine love for table tennis. Most know this sport is my burning desire and one I wish to only uplift. I am not writing these blogs to upset anyone or disrespect TTE as an organisation.
I provide my views and opinions from personal experience, what I see, hear and feel. My sole objective is to find ways of providing the best possible service to all invested in table tennis.
I appreciate not everyone will agree with me or see eye to eye. But my heart tells me that it's my duty to stand up for what I believe in.
I'd like to add one more thing if I was in TTE's position I would listen to the clubs, coaches and players. The answers are there, all that's required to do is listen and build on what's working well and improve the not so good.
Let's not view criticism as bad, but as an opportunity to understand and something to embrace, resolve and improve. 
As a starting point, we can look at implementing an impartial deep-dive review that would get everything out in the open.
From this point, we can build a clear strategy and prioritise and focus on what we need to improve. At the same time, the table tennis community and TTE need to look at working together to implement the plan.
Written by Eli Baraty
eBaTT (Eli Baraty Academy of Table Tennis)                          
Coach Me Table Tennis 
– – – – – – – – – – – – – – – – – – – – – – – – – –
Instagram: _elibaraty 
Twitter: @elibaraty
FB: Coach Me Table Tennis
 – – – – – – – – – – – – – – – – – – – – – – –  – – 
W:  www.coachmetabletennis.com
M:  07900401144