eBaTT become Junior British League Champions for the fourth time in six years
Seeded fourth at the Junior British Leauge (premier division), after losing our first match it seemed as though the title would be out of our reach. Never the less the coaching team of Eli Baraty and Jade Blasse quickly re-thought tactics and formats which enabled the squad to regroup and bounce back with 4 straight wins. While we were winning our opposition draw two matches which gave us a slight edge on points after weekend one.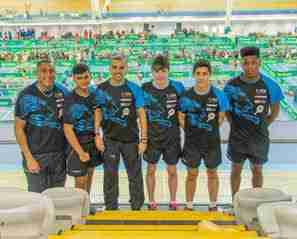 Second Weekend
The second and final weekend saw us kick into action straight away with 6-0 wins over strong opposition. This meant if we could draw our second last match the title would be ours. This was against the team who had beaten us in the first round and title chasers. 3-2 down a loss seemed to be on the cards again. But home-grown Gaurav Aravind produced some wonderful play to take the match 3-1 against England no.1 Junior Shayan Siraj and give eBaTT the Title.
eBaTT Team:
Thibault Bailliet, Israel Awolaja, Gaurav Aravind, Dylan Curry
Our Team is Sponsored by CreoGlass www.creoglass.co.uk