If you had a choice of Individual or group table tennis coaching? which would you pick?
Instinctively, I believe most would pick individual coaching! I would like to point out the pros and cons of both. I hope it will help you choose the best pathway for your table tennis development.
Group Table Tennis Coaching
We often start our table tennis journey inside a group of players. The sessions are either lead by a coach or players run the session constructively or freely.
Pros:
1. Verity: Often a group will provide many challenges alongside different playing styles. Verity of play can make the game more enjoyable which may entice positive self-development.
2. Challenge: A group of players working towards higher achievement by setting goals pushes will certain individuals to develop faster. This can have a domino effect making everyone thrive towards greater success.
3. Learn from each other: As the saying goes two heads are better than one. When a group of collective people are in search of development they will find answers quicker than one person. It also helps to have different opinions and thoughts but be careful as it can be overwhelming and can lead to negative effects.

Cons:
1. Motivation: A group may be content just playing. If this is the case your development will be limited because there is no objective towards growth.
2. The same: We are all unique and in most cases required personal coaching to develop specific needs. More often than not groups as a whole, do the same exercises regardless of individual requirements.
3. Limited focus: If you have a coach running the group session, you have a very small amount of their time. Receiving limited personal attention can and most likely will deter your progression line.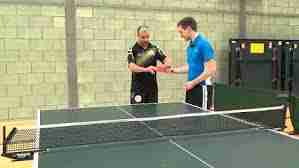 Individual Table Tennis Coaching:
Pros:

1. You're the centre of attention: A coach will give you 100% attention and hone in on your specific requirements.
2. Individual: You can work on your specific needs rather than working on something generic.
3. Monitor: A coach can develop programmes that monitor your progression line. Via: video, log book, rankings and tournament results.
Cons:
1. The coach: If the coach is inexperienced or set in their ways, you may receive poor advice. This can have a negative effect on your game and overall confidence.
2. Your requirements: Every table tennis coach is different and some may not suit your personal requirements or needs. For example, if you're a penholder player it may be slightly more beneficial getting a coach who plays that specific style. Not always but it can have the added benefits of their personal experience.
3. Money: A high-quality table tennis can be an expensive investment. A low-quality coach can be even more expensive! (Lots of cheap sessions with no results)
Rough Guide to Individual or Group Table Tennis Coaching:
Personally, if I was still a player I would want a little from both worlds.
Pro level
An individual table tennis coach for 2-6 hours per week and 15-25 hours group table tennis coaching. I would also have a few hours of personal training with a sparring partner or group of partners. Total 30 plus hours per week of table time.
National to international level
Individual coaching 1-4 hours per week and group coaching 10-20. Furthermore, I would create personal sessions with a sparring or group of players for 2-4 hours per week
Local to a county level
Attend a group table tennis coaching session 1-2 per week with 5-10 hours of group coaching. Have 1-2 hours of individual coaching and arrange some personal training 1-3 hours a week.
Local league
Attend a group coaching session once or twice a week and have individual coaching 1 hour per week or fortnightly.
Which would you choose? Individual or group coaching?
There's no right or wrong answer, it all depends on your specific needs and personal requirements.
Examples of Individual Coaching
Examples of Group Coaching
If you have any questions don't hesitate to contact me.
Written by Eli Baraty
eBaTT (Eli Baraty Academy of Table Tennis)                          
Coach Me Table Tennis 
– – – – – – – – – – – – – – – – – – – – – – – – – –
Instagram: _elibaraty 
Twitter: @elibaraty
FB: Coach Me Table Tennis
 – – – – – – – – – – – – – – – – – – – – – – –  – – 
M:  07900401144