Within less than a year of playing, I was asked, "how long have you been playing table tennis?" To this day I receive the same question!
What does this question mean?
If your level is high but you have only been playing for a short period of time, people think wow you're amazing!
Or
If you level is high but you have been playing for a long time, people think and say, "you should be good". Or if your level is low then the perception changes to "hmmm you're not very good considering the amount of time you've been playing"!
Answering the question has a negative regardless of your answer!
Should your level of play depend on time?
As a past player, I naturally resorted to answering the question with minimal time, today as a coach it's the opposite.
I think your answer is irrelevant and the focus should be on your personal achievements.
Is time important?
100% time is important and all table tennis players must respect their playing time.
Some players can play for 20 years and still lose to players who have only played for 2 years. It's all about how you use your time. There are no official shortcuts to becoming a top-class player. It takes time, dedication and plenty of hard work.
Having said that, there are ways of reaching a higher level at a faster rate than most.
What can I do to improve faster, playing table tennis?
What you do with your time: I remember watching two players knock up (backhand to backhand and forehand to forehand) for a good hour every training session. Aged 15-16 I thought wow these two guys are dedicated, towards personal growth. My ignorance eluded me and today I wouldn't dare request this kind of training from my players. First of all, no game is played with BH and FH only. Secondly, why would you hone in a stroke placed in one location when the game has no set routine? yes, development if the stroke is benefited if one places the ball in one area. Once a stroke has been developed, look into various ways of implementing it a match scenario. In order for you to develop as a player, it is vital to explore all aspects of the game.
Utilise your time: Top table tennis players focus on using their time on the table only to enhance their game. Developing your game can be done in so many forms off the table. This includes physical development, mental challenges (chess games, problem-solving, working alone or in a team). Nutritional, awareness and implementation. Visualisation, seeing yourself develop and growing into a top player.
A few videos to aid you in training off the table: Reaction and physical development   Serve
Don't question your table time: many upcoming players think of playing table tennis with good players only, is the key to developing one's game. You're stopping your own development because of your constant search of good players to train and play with. Playing with good players only has many restrictions and issues.
Who should you train with?
40% of your table time  – players above your level: they will push beyond your comfort zone. They will find holes in your game and you will experience what you require to further your game
40% of your table time – players of in and around your level: this will benefit your game in a comfortable challenge allowing you to access your current level
20% of your table time – players below your level: This provides you with an opportunity to experiment with new serves, tactics and skills you've recently developed. Furthermore, it provides an opportunity to increase your playing focus and learn to take all the players seriously.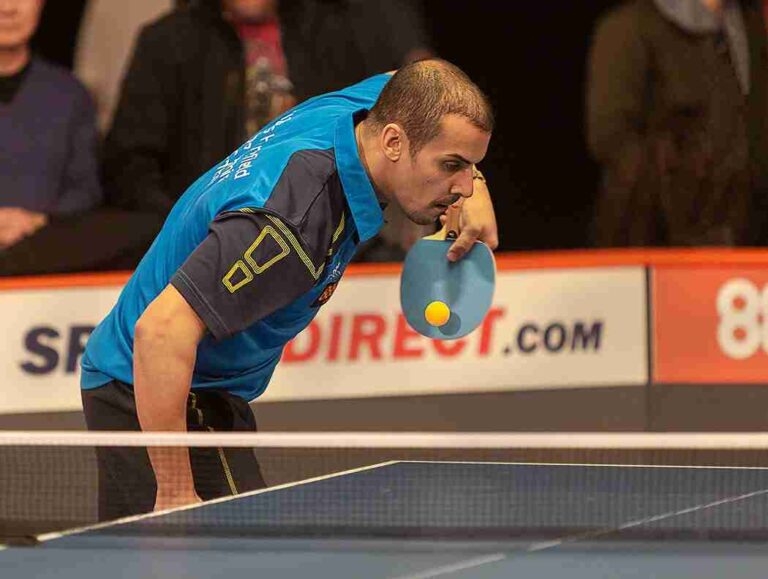 Avoid this question:
Who will be there?
If you're an aspiring player, ask the question how will I benefit from the experience? It's a big mistake when a player asks who will be at the club or camp? The players won't improve your level, the experience and coaches will guide your personal requirements. The players will just challenge your game depending on their level.
Zone in on making the most of what you have and you will succeed even if the current environment isn't quite right
Written by Eli Baraty
eBaTT (Eli Baraty Academy of Table Tennis)
Coach Me Table Tennis
– – – – – – – – – – – – – – – – – – – – – – – – – –
Instagram: _elibaraty
Twitter: @elibaraty
FB: Coach Me Table Tennis
– – – – – – – – – – – – – – – – – – – – – – –  – –
W:  www.coachmetabletennis.com
M:  07900401144