I know it's easy to say, table tennis belief can be developed.
Before We Believe:
I think the biggest issue we all have is hearing, listening and doing what others do. I don't like this saying but it's so true "most are sheep" which often kills potential. We are the most privileged species on the planet, yet most follow and few create. We have a gift which enables us in more ways than any other thing on the planet.
So why do we let our surroundings dictate us?
One Simple Reason:
Fear of what others think, do and say! Most would live a fake life, their whole lives because they fear what others may think or say.
What a shame, to live under a shadow when you only have one life (that we know of).
The older you get the shorter your time becomes but while you're still breathing you still have time to make your life yours.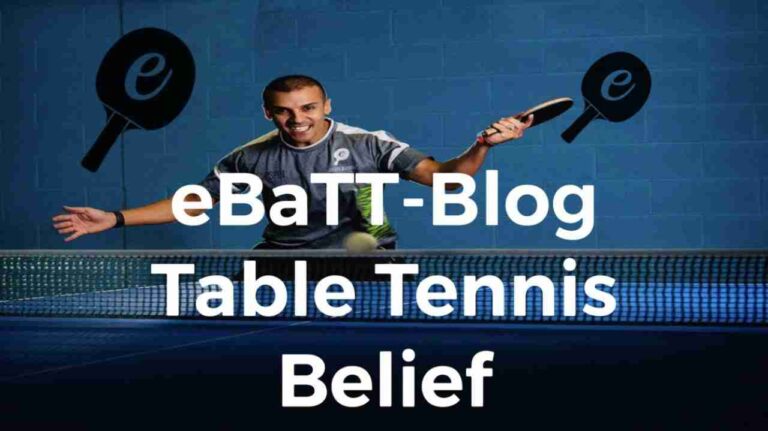 Table Tennis Belief:
The game has evolved so much over the past 30 years and we are seeing less and less versatility. I think it's a shame for players and for the sport. I appreciate that it's highly unluckily to become a world champion if you only chop, or chop block on your backhand or lob & fish. But only one person becomes a world champion every two years, so why not play the way you want?!
In order to love what you do and enable your skill to truly flourish, you must develop your own style. This means finding what works for you and believe in that pathway.
Table Tennis Styles:
If players were given more freedom to explore, experiment and have a personal style I believe we would retain more players. I think many players are boxed via associations, clubs and coaches. The sport requires expression and it's moving more and more towards a single formula of play.
There is no human on the planet that has the same DNA so why are we teaching all our players a systematic style of play?!
Believe in yourself, express yourself and find what suits you. If you do this, you may not be a winner or seen as "normal" but you are true to yourself. And being true to yourself means you are truly living.
I am very interested in your thoughts and opinions so please leave a comment below
Written Eli Baraty
eBaTT (Eli Baraty Academy of Table Tennis)                          
Coach Me Table Tennis